Considering I had to make a to do list anyway for tomorrows Bloggy Boot Camp Seattle, I figured I might as well put it here. 🙂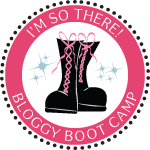 1. Trip to grocery store to procure snacks for kids so husband doesn't go completely nuts (complete)
2. Laundry – clean clothes for tomorrow (in progress) including super cute custom shirt from my friend Julie at It's a Preemie Thing (I love knowing someone with a vinyl printer)
3. Charge iPhone (complete)
4. Charge iPad (in progress)
5. Figure out right bag to haul a zillion billion cards, iPad and miscellaneous things like lip gloss, pens and a hairbrush (haven't a clue)
6. Pour a cup of tea (steeping)
7. Wash travel mug out so it's ready for caffeine for the drive tomorrow
8. Prepare some of the aforementioned snacks for previously mentioned husband so he doesn't have to do it while children are screaming like banshees.
9. Come up with quick way to describe the vision behind The Maven of Social Media in 30 seconds or less
10. Get to bed before midnight. Seriously.
So except for #10, I think I can do this.
See everyone tomorrow! I cannot wait!
XO The Maven
ps This post contains an affiliate link for my tea. It's yummy.