This is a sponsored post
The importance of a great smile
Even the simplest daily routines can be a challenge for kids. I'm not just talking about baths and clean socks, but brushing their teeth for two minutes twice a day! Sounds easy right?
Everyone knows it's important to go to the dentist to have healthy teeth, gums and a winning smile, but did you know that the health of your mouth, affects every part of your body? That's why it's so important to give kids good dental habits.
One of the ways I get my kids excited about brushing their teeth is having fun tooth brushes. In fact, my 8 year old daughter loves using an electric toothbrush to brush her teeth. She may be giggling for two minutes because it tickles, but it definitely keeps her motivated! The best part? She ASKED for the electric toothbrush, I didn't need to convince her to use it at all.
Good oral health can limit your exposure to heart disease, stroke and memory loss. This is why it's so important to start taking care of your oral health early, a healthy mouth equals a healthy you!
About Smile Health Dental Plans
The people at Smile Health Dental Plans know this and they have come up with one of the most simple and affordable Dental plans on the market today!
Smile Health Dental Plans would like to know how you take care of your oral health and what you do to ensure a healthy smile!
Check out their website at https://smilehealth.com.
Smile Health Dental Plans
Smile Health Dental Plans are an affordable alternative to traditional dental insurance. Members pay an annual fee to receive discounts all year long. And with Smile Health Dental Plans there are no hidden costs, just savings of 20% or more on many preventative, restorative and cosmetic dental treatments. You get immediate benefits, no health restrictions, no waiting periods, no claims, no maximums, and more!
8 tips to save your smile and your life
Download this helpful flyer from Smile Health Dental Plans to remind you of hints for your best dental health.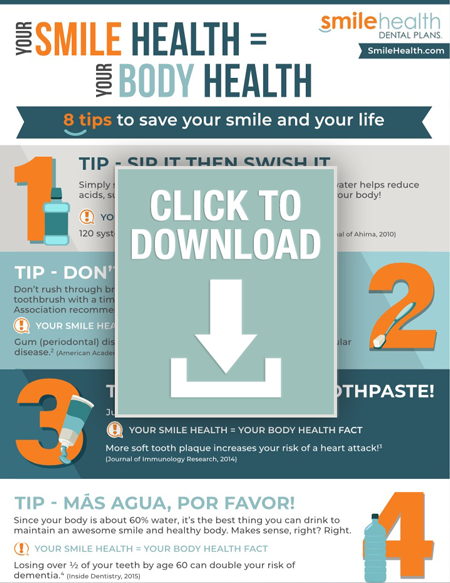 Smile Health Dental Plans "Your Smile Health = Your Body Health" Care Kit Giveaway
Each household is only eligible to win "Your Smile Health = Your Body Health" Care Kit via blog reviews and giveaways. Only one entrant per mailing address per giveaway. If you have won the same prize on another blog, you will not be eligible to win it again. Winner is subject to eligibility verification. Open to US only, 18+, void where prohibited.
Smile Health Dental Plans "Your Smile Health = Your Body Health" Care Kit includes:
1 – Oral B Vitality Electric Toothbrush
1 – Crest Pro-Health Toothpaste Travel Size
1 – Oral B Glide Floss
1 – Crest Pro-Health Multi-Protection Oral Rinse
1 – Smile Health = Body Health PDF pamphlet
Smile Health Dental Plans "Your Smile Health = Your Body Health" Care Kit